WATCH | NFL Divisional Round selections | Freddie Mitchell's NFC predictions
CINCINNATI BENGALS @ BUFFALO BILLS
CODE Bet Match Centre
The last time these two teams met we nearly saw the unthinkable happen with the shocking incident involving Damar Hamlin. That game was eventually called off, but now three weeks later, the #2-seeded Bills (13-3) host the no. 3-seeded Bengals (12-4) for a spot in the AFC championship game. It's Josh Allen versus Joe Burrow in what promises to be a HUGE clash.
CINCINNATI BENGALS: $3.05 (via bet365, TopSport)
BUFFALO BILLS: $1.43 (via Betr)
CAN CINCY'S O-LINE KEEP BURROW UPRIGHT?
The biggest problem for the Bengals is the bedraggled state of their offensive line, with injuries all along Joe Burrow's protective front.
It will make scoring all that much tougher for Cincy as the backups try to keep Burrow upright and able to direct the offence.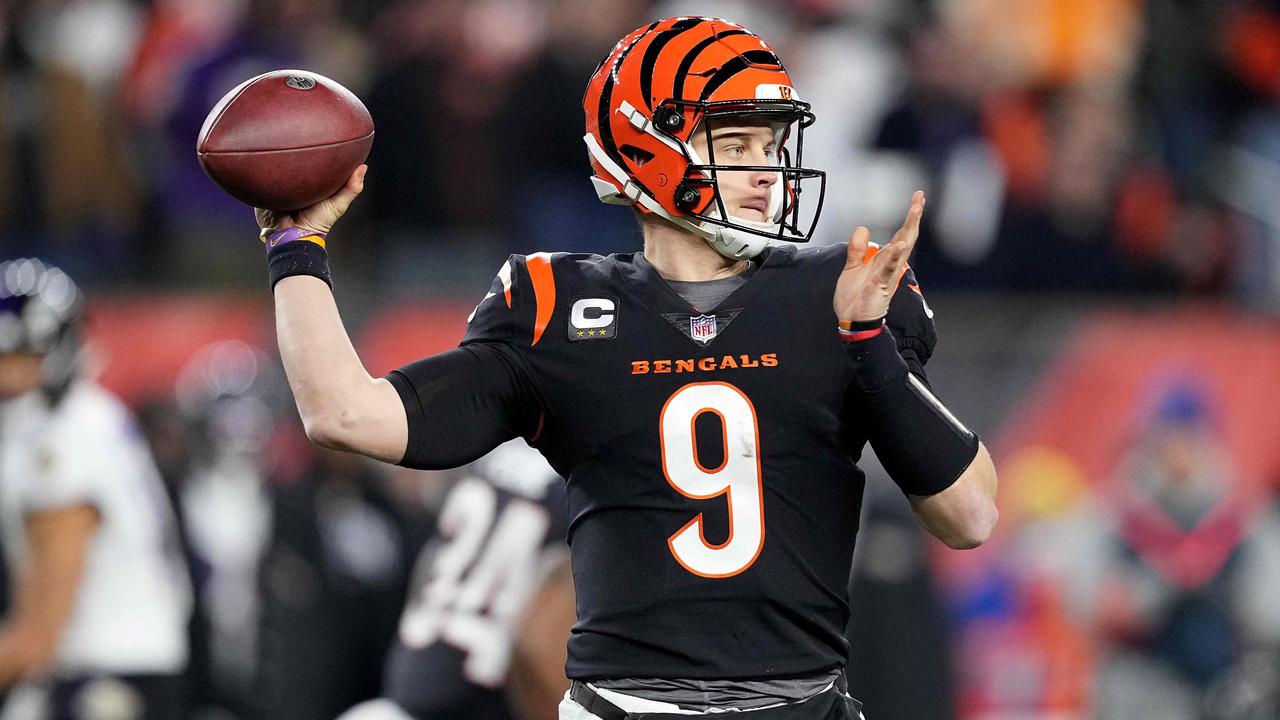 Joe Burrow of the Cincinnati Bengals. Picture: Dylan Buell/Getty Images
Cincy are lucky in that, since the injury to Von Miller, Buffalo haven't looked quite as impressive getting after quarterbacks, but still, it's a big concern when it comes to the Bengals putting up a score big enough to beat the Bills.
Burrow should still connect with one of his receivers for a TD: he found his long-time favourite target Ja'Marr Chase nine times this season, look for the former LSU teammates to make it 10 against Buffalo.
Cincinnati points total – Under 23.5: $1.60 (via bet365)
Ja'Marr Chase anytime TD score: $2.25 (via bet365)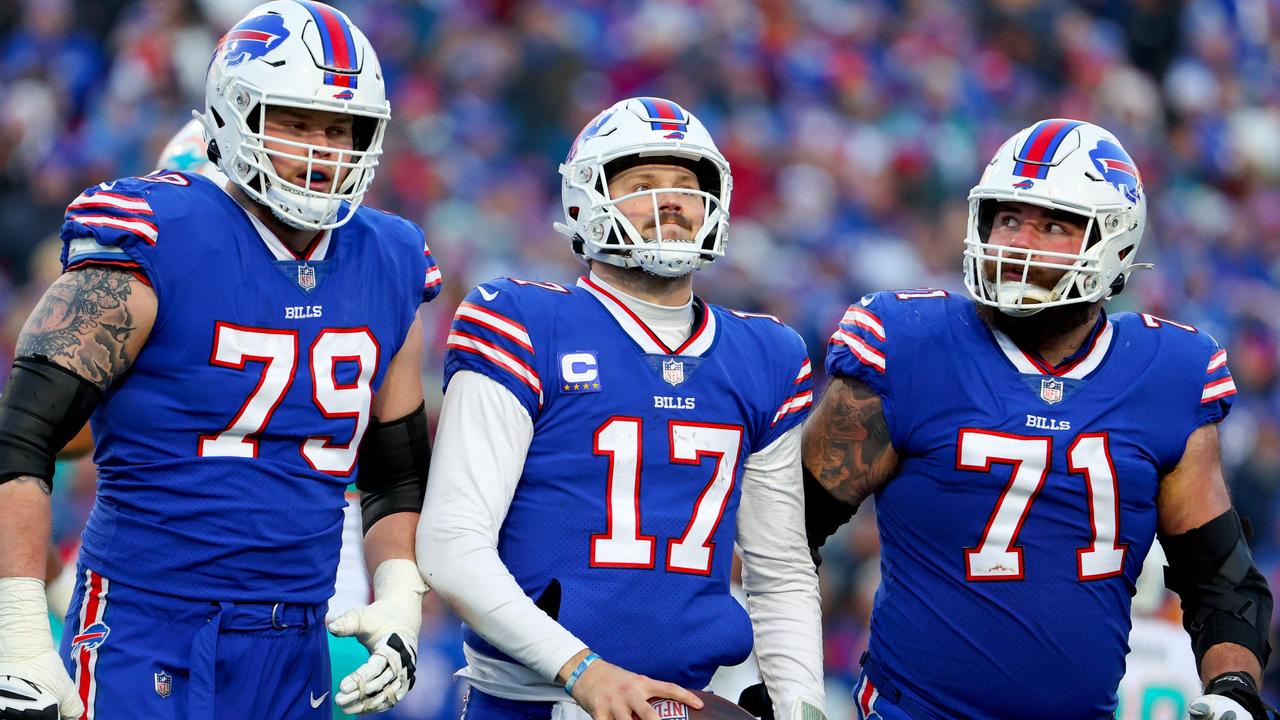 Spencer Brown, Josh Allen and Ryan Bates of the Buffalo Bills. Picture: Timothy T Ludwig/Getty Images
WILL THE GOOD BUFFALO PLEASE STAND UP
Last week's Wild Card win over Miami was less than convincing, with quarterback Josh Allen looking scrappy and struggling to make non-hero-ball plays.
The Bengals defence will make Allen work harder than Miami, but at home the Bills offence should continue to click – it hasn't scored under 30 points over their last four games – and continue on its winning ways. Allen should connect with Stefon Diggs for a TD and also scamper in for one himself.
Josh Allen 200+ yards, Josh Allen Anytime TD + Stefon Diggs 50+ yards, Stefon Diggs anytime TD: $6 (via bet365)
WHO WINS?
The Bills are a ridiculous 7-1 at home this season, but only 4-5 against the spread. Cincinnati, on the other hand, are an exceptional 7-2 in covering the line on the road. The Bills should squeak out a tight win as the Bengals with that hole-y O-line don't have quite enough offence to put them to the sword, but Cincinnati will manufacture enough points to cover. Buffalo 24 – Cincinnati 21.
THE PICK: Cincinnati +6.5 $1.83 (via Betr)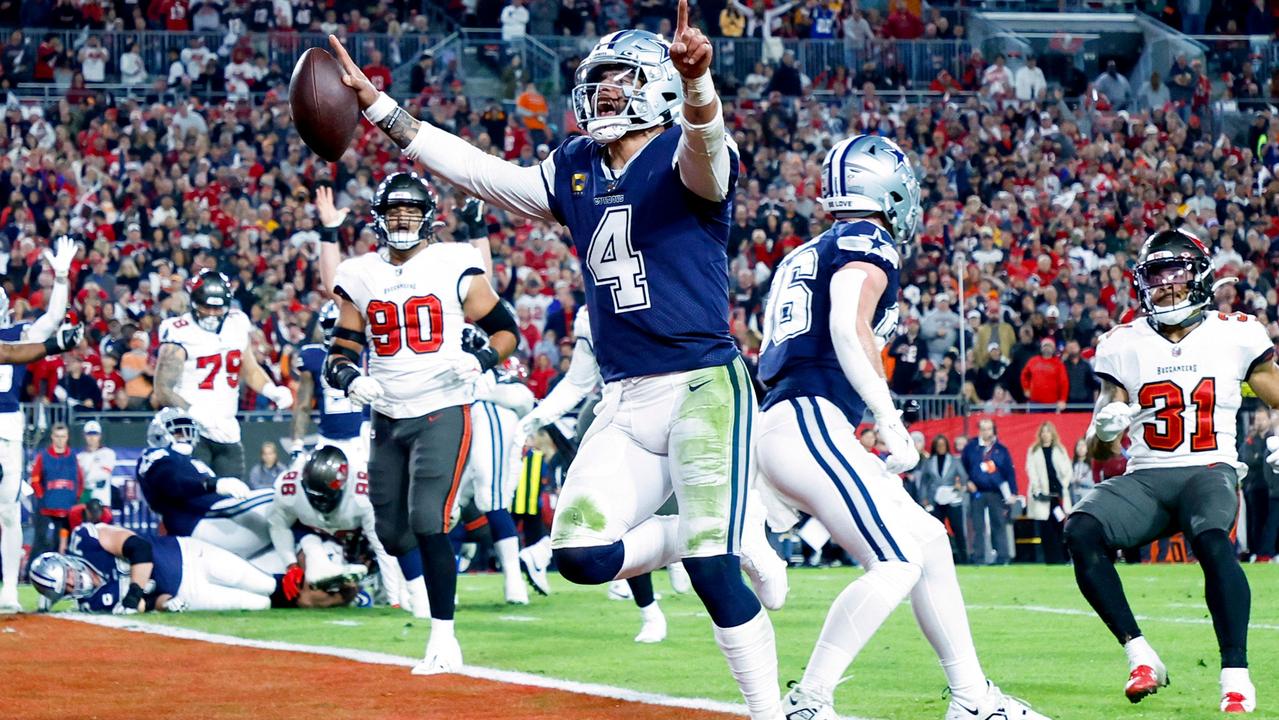 Dak Prescott of the Dallas Cowboys rushes for a touchdown. Picture: Mike Ehrmann/Getty Images
DALLAS COWBOYS @ SAN FRANCISCO 49ERS
CODE Bet Match Centre
What a game. Cowboys-Niners looms as the tightest matchup of the divisional round, evoking not only the glory years of both franchises, but setting two of the NFL's best defences against each other, while also providing probably the best 'prove it' opportunity both squads could've hoped for in the divisional round.
DALLAS COWBOYS: $2.77 (via TopSport)
SAN FRANCISCO 49ERS: $1.50 (via bet365)
CAN DALLAS PRY OPEN THE NINERS DEFENCE?
The one thing we learned from the Seahawks-Niners games last week is that the only thing you might be able to do with any confidence against San Francisco is throw the ball.
Geno Smith and DK Metcalf routinely broke open the secondary for big gains, so look for quarterback Dak Prescott to try and hit CeeDee Lamb for yards over the top.
Considering that both defences are top 5 units, Dallas will try often and early to get this going and open the game up: so Prescott's passing yards and Lamb for a TD looks the play before the Cowboys try to run on this imposing Niners defence.
Dak Prescott 200+ passing yards, CeeDee Lamb anytime TD: $2.60 (via bet365)
Brock Purdy of the San Francisco 49ers. Picture: Ezra Shaw/Getty Images
WILL BROCK PURDY CONTINUE TO DELIVER?
The Niners relying on a seventh-round, final pick of the draft at quarterback is still absolutely remarkable, but Brock Purdy, despite some early hiccups against Seattle, was terrific in the second half last week and ended up with over 330 passing yards.
It certainly helps when your offence contains 'do everything' weapons like Christian McCaffrey and Deebo Samuel, along with excellent receiving options like Brandon Aiyuk and tight end George Kittle.
Look for both McCaffrey and Samuel to score again and help Purdy out in getting the Niners offence clicking.
Christian McCaffrey anytime TD + Deebo Samuel anytime TD: $4.20 (via bet365)
WHO WINS?
The Niners are 9-1 at home this season, while the Cowboys are 5-4, but San Francisco is also an absolutely ridiculous 8-2 against the spread on their home field. Dallas covered only at 4-4-1 on the road this season… so look for the Niners and their defence to slow down Dallas in the second half and squeeze out a close win.
THE PICK: San Francisco -3.5 $1.86 (via Betr)
[all odds as of January 20]
— CHECK OUT CODE BET'S NFL HUB FOR MORE ODDS COMPARISONS & ANALYSIS —
#BillsBengals #NinersCowboys #NFL #playoffs #Divisional #Monday #betting #preview #CODE #Bet