Name the Premier League fixture in which Brentford scored the opening goal but went on to lose. Answer: There isn't one.
"It's a crazy stat, especially as a newly promoted team, that's very impressive," said head coach Thomas Frank after Sky Sports reveals his side has won 16 of 20 league matches when they've scored first.
Remarkably, only one of those victories, against Everton in November 2021, finished 1-0. Brentford do not sit back and grind out results, instead, they go for a second.

Sunday 22nd January 1:00pm


Kick off 2:00pm

"It's the mindset," said Frank. "How we train in small-sided games to score more. We talk about it, we train it, we try to be aware of it constantly."
It is an approach that comfortably secured them a second season in the Premier League and has now inspired dreams of European football.
Highlights from Brentford's match against Bournemouth in the Premier League.

Brentford's in-game ambition to continue moving forward mirrors their off-field progress. While there will always likely be a ceiling to how high they can climb the Premier League, there remains a desire to improve and develop the club, but within their successful model.
Yoanne Wissa (£8.5m), Frank Onyeka (undisclosed) and Kristoffer Ajer (£13.5m) were the only three signings the club made ahead of their debut top-flight season two summers ago. Jonas Lossl and Christian Eriksen arrived last January January before Aaron Hickey (£18m), Keane Lewis-Potter (£20m), Mikkel Damsgaard (£16.7m) and Ben Mee (free) joined this summer.
'We haven't played our best team yet'
When asked if Ben Mee – dependable as ever at centre-back – has been pound-for-pound the best signing this season, Frank laughs and says "most likely". The 33-year-old is not a typical Brentford signing – that would be a player in their early 20s with great potential – yet the club can do little wrong at the moment.
Transfer Talk pundit Dan Bardell says Brentford goalkeeper David Raya is in the top three goalkeepers in the Premier League, and thinks it's no surprise that 'bigger' clubs are interested in him.

Brentford's squad remains largely made up of the players who won promotion via the Championship play-offs. The likes of sought-away goalkeeper David Raya, who once spent time on loan at non-League Southport, is fast becoming one of the best in the division as he nears 150 appearances for the club. Ivan Toney is among the top goalscorers. However, Frank insists we're still yet to see his best side this season. How are the Bees over-achieving again?
"Maybe the biggest reason behind it is our consistency," said Frank. "We're consistent in the messages we give to players and we're consistent in what we're doing, winning or losing.
"The tricky spell we had last year when we lost seven in eight, six on the spin, there was still consistency in the messages, training hard, and in the performances even though we were losing there were good bits to take away from it.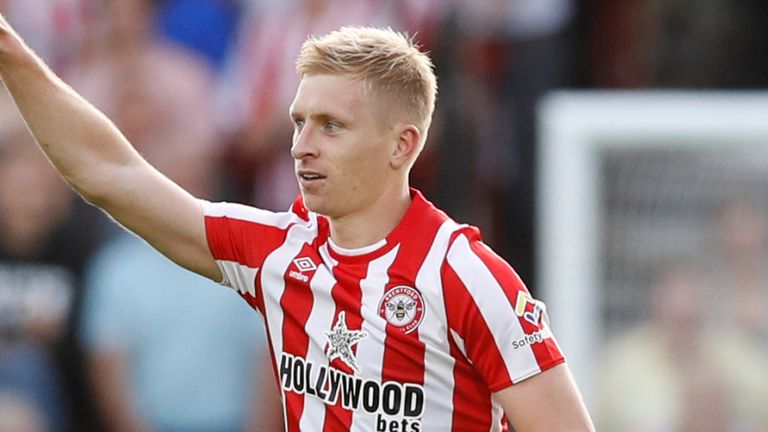 "Suddenly, when you get it right and your best players are on the pitch…I don't think we've played our strongest XI in one game this season which is very remarkable that we can still perform."
Brentford have nine more points than they did at this stage last season and have only lost four Premier League matches. They've claimed big scalps again over Liverpool and at Manchester City yet little has changed.
'I want to win and that's why we're pragmatic'
Key, though, to their success is the tactical approach of Frank. He swaps between 4-3-3 and 3-5-2 and isn't arrogant enough to not adopt a "pragmatic" style. Only Liverpool, Everton, Fulham and West Ham have attempted more longer passes than Brentford, who have the third-lowest possession numbers in the division. The ball is in play for only 53 per cent of the matches they are involved in.
"The adaptability or the tactical flexibility is something I believe a lot in," said Frank, who recently signed a new contract until 2027. "If I only had one system, I'd still tweak it in terms of how you press or the build-up of phase two. Adaptability is really important and something we train a lot on. It's key the players know their role and what to do.
"In the Championship we were one of the best possession teams, scored the most goals, we really dominated our games – that's the way I prefer to go towards. But first and foremost, I want to win and that's why we are a little bit pragmatic. We know we are facing teams and clubs that are so much bigger. Bigger [in terms of] budget and on paper better players, but I believe a lot in our guys and how good they are."
FREE TO WATCH: Highlights from the Premier League match between Manchester City and Brentford.

Then there is the culture at Brentford.
"No d********. They really want to play, run, fight for each other. We need good people that care about each other and then we reinforce the hard work on the training pitch," said Frank, who faces what he calls another "defining-ish" game against Leeds on Sunday, live on Sky Sports.
A straightforward 2-0 victory over Bournemouth last weekend followed their 3-1 dismantling of Liverpool. Each win is as crucial as the next.
'A season defining-ish game'
Highlights from Brentford's 3-1 win against Liverpool in the Premier League.

"The City and Liverpool wins are the biggest and as a single result in the history of Brentford it is of course bigger, but in a season both of those games are only three points," said Frank. "That's why the Bournemouth three points are equally as important and it's part of my job to have that little fear in the back of my head that I'd be very disappointed if we didn't win, but you never know in football."
Frank is adamant Sunday will be different to when the teams last met.
FREE TO WATCH: Highlights from Brentford's win against Leeds in the Premier League.

"It was not a 5-2 if you looked at the game. We deserved to win but it was not a three-goal win against them. Leeds are a very, very, very good," added Frank. "They haven't got what they've deserved so far, they've played some fantastic football and Jesse Marsch has done very well in terms of that. I like the liveliness and direct play in terms of how they really go at it and are very intense with their pressure.
"Elland Road is one of the hardest places to go to with the noise. That's another defining-ish game if we can go there and win."
And Brentford will fancy their chances if they score first.
#Thomas #Frank #exclusive #Brentford #havent #lost #Premier #League #scoring #Football #News